Some activity can be observed concerning the question of a railroad connection from northern Finland to Kirkenes in Norway.
Such a railroad would start in Rovanienmi or Kemijärvi and go to Ivalo in northern Finland. From there it would pass the Lake Inari (Inarijärvi) either like todays highway in the west or a bit shorter in the east and lead to Kirkenes at the Russian Norwegian border and the Barents Sea.
Kirkenes has a good port that usually remains ice-less throughout the winter because of the Gulf Stream. It is the eastern end point of the Hurtigruten and there is currently the only road crossing the border from Norway to Russia. Kirkenes can currently only be reached from the land side only by road or by the Kirkenes–Bjørnevatn Line, a railroad that connects the port a a mine just 8.5 kilometers south. It is used mainly for transport of iron ore, depending on the activity of the mine and the world market prices of iron ore.
It seems to be reasonable to expand the port of Kirkenes. The new capacities could be offered to Finland and Russia. Discussions of connecting to Nikel (Никель) in Russia have been slowed down by Russia in an effort to support the port of Murmansk (Мурманск). But the project of connecting to Finland, even though about ten times as far, is being seriously considered. This would allow Finland easier access to the world makets, especially for transatlantic trade. In addition the route will gain importance due to the global warming, which is already making the Northeast passage north of Sibiria a more reasonable route to eastern Asia. It is shorter and cheaper than going via the Suez Canal, but the effect of global warming is still not so strong that this has become the main route. If such a rail connection to Finland existed, it would be possible to use Kirkenes also as port for parts of Russian and Central Europe including the Baltic States both to Asia and the Americas, by just using railroad connections between Finland and Russia that already exist. Finland and Russia both use a broad gauge of 1524 mm or 1520 mm, respectively, that is similar enough to allow usage of both gauges by the same freight trains.
The short line near Kirkenes could be converted to broad gauge or to dual gauge or a new track could be built parallel to it. It would be necessary to build about 550 km of track. Probably road transport could profit also, if the shorter route east of Lake Inari were chosen, because it is likely that a highway parallel to the railroad would close the 20 km long gap between the Finnish and Norwegian highway networks east of Lake Inari.
The shorter connection to Skibotn that was discussed earlier, seems to be irrelevant now. Of course, Skibotn does not have a serious port, which would have to be built, possibly causing some resistance and for sure costing a lot of money. The railroad could also be extended to Tromsø, but that would make it longer anyway and I have not heard of easy expansion options of the port of Tromsø.
Sometimes in Finland it is suggested to build a Tunnel from Finland to Estonia as well to connect to Europe. But I do not see this as a requirement, since the potential of freight transport would anyway come mostly from Finland. Other parts of Europe are already today be connected by train via ferries from Estonia to Finland or without ferries via Russia or via Sweden. One break of gauge will be in the route anyway.
Currently a feasibility study concerning the railroad connection from Finland to Kirkenes is being performed. Sometimes the term "Arctic Ocean Line" is used for this project. I would assume that we are talking about an electrified single track railroad with short double track sections. The decision is supposed to be made in 2019. This inspires discussions like this article. We will see were this will lead. I am in favor of the project.
Map
Map of likely and possible routes (red):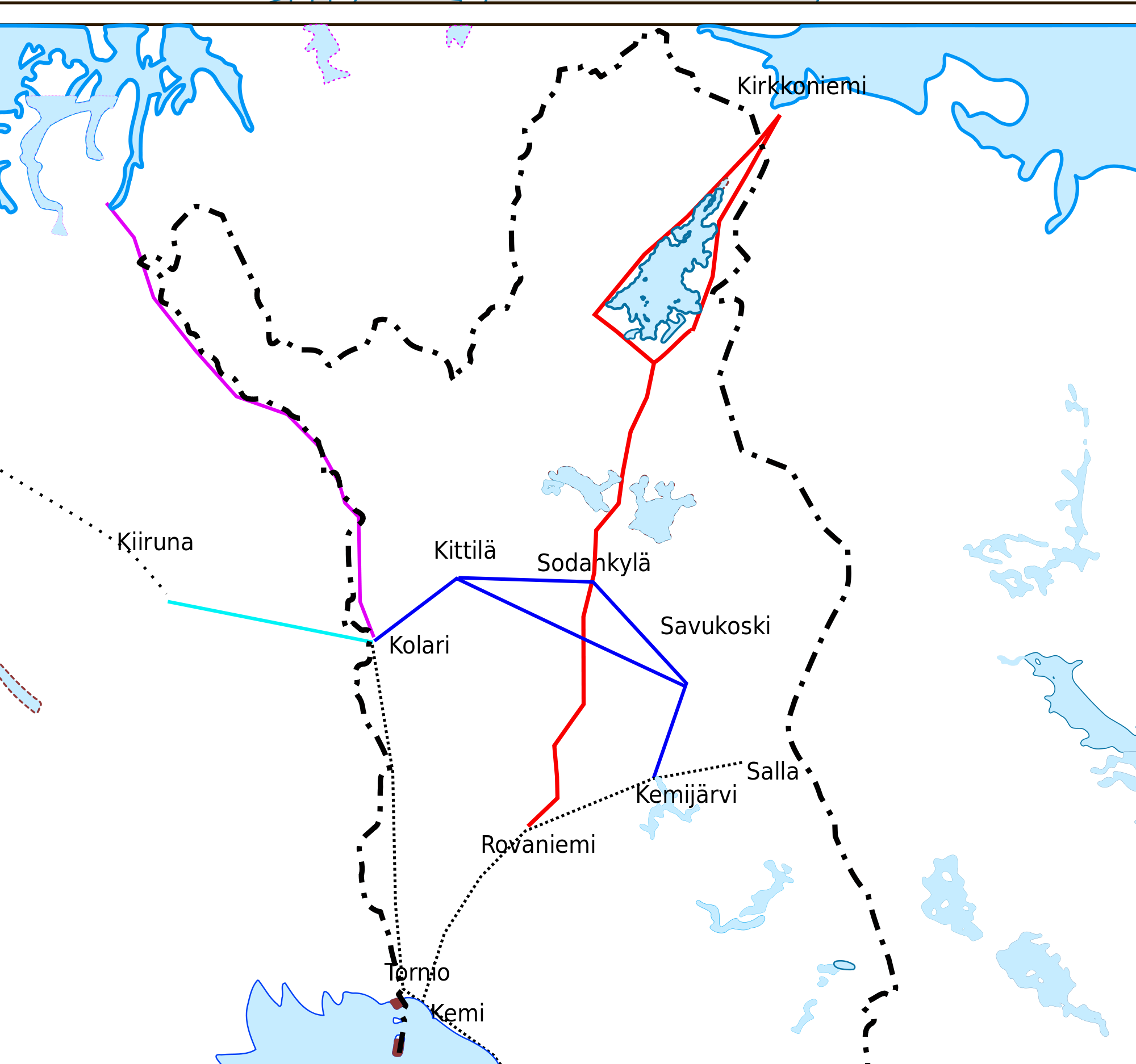 Source Wikimedia Commons Creator RicHarc-59 (C) CC-BY-SA-3.0
Links